About
Welcome to a vast topic which none of us will ever finish exploring. Scripture engagement is about all of life. It is listening and responding to God's Word alone and together with others. It is digesting and living out the Word in every relationship and circumstance. It is unashamedly and competently sharing God's good news in our world. Above all, Scripture engagement is encountering the living Christ through his living Word.
From its foundation in 1947, IFES has been committed to taking God's Word seriously. To this day, IFES movements continue to be characterised by interaction with Scripture: whether on a personal basis, together in small group discussions, or in larger meetings. Although God's Word is truth unchanging, student culture is constantly changing around the world. How can we help each new generation of students to love, study, live and share God's Word?
An IFES global consultation on Scripture engagement was held in 2011. One of its conclusions was the need for a team working globally with this focus to help facilitate the exchange of ideas, experiences, and resources as well as strengthen the vision of Scripture engagement.
This led to the new appointment of a Secretary for Scripture Engagement in the same year, and the formation of an international team in 2013. In 2017, an Associate Secretary for Scripture Engagement was appointed. In addition, many multipliers across the international fellowship have emerged with a passion to strengthen this core commitment of IFES.
People
Sabine Kalthoff, Secretary for Scripture Engagement
Sabine travels globally in the IFES network to inspire and promote good practice in Scripture engagement. She provides support for national movements to grow in this area and helps students discover the value of God's Word. Sabine gives Bible talks and leads trainings, mentors multipliers, and loves creating space for staff to be renewed through time in the Word.
Sabine comes from Germany, but grew up in Nepal and India. She first got involved in the IFES student movement in Germany (SMD) while studying French, English and Business Administration – and then stayed on as a staff worker for 14 years. During this time, she completed a Master of Arts in Theological Studies. Since 2011, Sabine has served on the international staff team of IFES in her current role. She lives in Marburg, Germany. Contact: sabine.kalthoff@ifesworld.org
Ricardo Borges, Associate Secretary for Scripture Engagement
Ricardo cooperates with Sabine in this task of promoting good practices in Scripture engagement across the international fellowship. His focus is on providing support for the regions and the national movements, collaborating with their local efforts and projects. Ricardo mentors and grows multipliers for Scripture engagement as well as training up future leaders for Scripture engagement in IFES on a global level. Ricardo is passionate about strengthening the vision for engaging Scripture with non-Christians, and contextual realities.
Ricardo is from Brazil, having lived in Uruguay for seven years where he helped to re-pioneer the student movement. He is an Agronomic Engineer, with further studies in the Bible and in Leadership at All Nations Christian College, in England. He worked for 14 years in the Brazilian student movement (ABUB) and served on the regional team of IFES Latin America. He currently lives in São Paulo, Brazil, together with his wife Ruth, and their daughters Ana Júlia and Carolina. Contact: ricardo.borges@ifesworld.org
International Scripture Engagement Team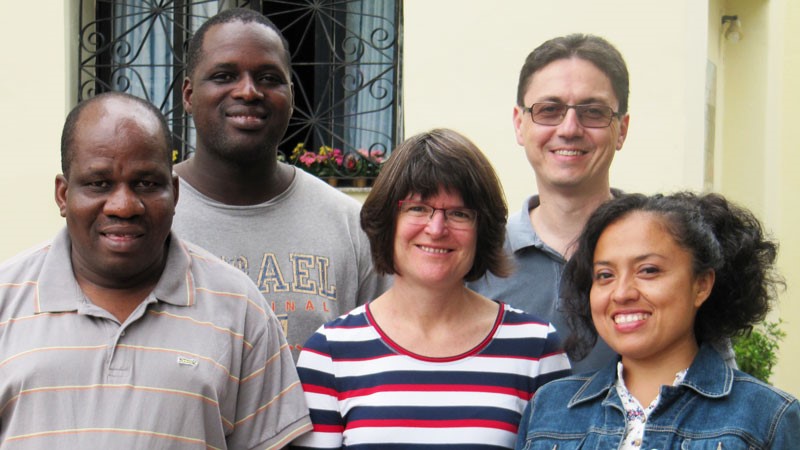 Sabine Kalthoff, IFES Secretary for Scripture Engagement
Ricardo Borges, IFES Associate Secretary for Scripture Engagement
Mukululi Ncube, Staff of ESWAFES eSwatini
Ana Miriam Peralta, staff of COMPA Mexico
Dieudonné Tindano, General Secretary of UGBB Burkina Faso
IFES Eurasia Regional Team member
This team meets once a year to read the Word, share, dream, plan and pray around Scripture engagement in IFES. Its aim is to help each team member to strengthen this area of their ministry and together to envision next steps for the global fellowship. A network of multipliers, some mentoring relationships, and various resources have grown out of this team.
Aims and activities
The aim of the Scripture Engagement ministry is to work alongside the national movements and regions to help ensure that each new generation of students loves, studies, lives and shares God's Word – as this is crucial for living out all other aspects of the IFES vision. This mission is not primarily achieved by multiplying certain programs, but by impacting people and forming multipliers of Scripture Engagement in IFES.
Some of the key activities have been helping various IFES regions and national movements carry out Scripture engagement consultations, and growing multipliers who strengthen the vision of Scripture engagement.
In time for the IFES World Assembly in Mexico 2015, the international team wrote and published The Word Among Us. It has a twofold aim: to communicate a broad and relational vision of Scripture engagement and to inspire change and renewal through reflection questions.
A trilingual quarterly newsletter is sent out by Sabine and Ricardo – it shares stories, ideas and reflections on Scripture engagement from around the IFES world. It is currently read by around 1300 people in more than 60 countries.
Numerous trainings, workshops, consultations and camps focusing on Scripture engagement will continue to take place. Sabine, Ricardo, and the Scripture engagement team will continue to invest intentionally in individuals who have the potential of becoming key multipliers in the area of Scripture engagement.
Impact
"For me, Scripture engagement has shifted from being a mere activity to a lifestyle. I have resolved to live out the Word of God and to share it with my friends and siblings. My conviction about Scripture has deepened and I desire the fruitful change which God's Word brings."
David Ndubuaku, student President, NIFES Nigeria which hosted a Scripture Engagement consultation for more than 100 student leaders, staff and associates in 2015.
"Running this training has been a blessing for EFES. We have gained new relationships and friends for our ministry. This has opened doors and pastors are giving more support to student groups in their churches. Since our students cannot meet on campus, this is crucial for our ministry."
Shaher, EFES Egypt, which ran a Bible study training event for churches, to which 70 participants from 17 churches came.
"I'm a scientific person. I want to be sure of something before I believe in it. If somebody had shown me a miracle, I don't think that I would have believed. But I love to read; I love words. Jesus came into my life through his Word. I discovered that all the evidence necessary to believe in Jesus is there in the Bible, the Word of God."
Sara Medina, student of chemistry and physics in Mexico, who became a Christian through a friend's invitation to a Compa Mexico Bible study.