I used to believe that the Bible is an old book that nobody reads. But then in October 2012, I met José, a Christian graduate who became a good friend. One day we started talking about the Bible. For me, this was a very sensitive topic. I thought that you had to avoid talking about politics and religion if you want to have a good relationship with others.
Then José invited me to a COMPA Bible study. I came away with more questions and doubts than before. José had given me a Bible, but I did not know how to read it. So, I asked him to teach me. He agreed and in the following week, we had our first official Bible study.
The approach which COMPA Mexico used to study the Bible was similar to the study technique which I used in science. This attracted me. I was surprised to realize that it is possible to take a rational approach to the Bible.
I was even more surprised by the person of Jesus. I discovered a new face of Jesus; I met a different Jesus. Previously, I thought that Jesus was one of many smart people in the history of our world – the smartest in his time. But I did not know that he has a big heart full of love. I used to think that Jesus was just a human being, but discovered that he is God.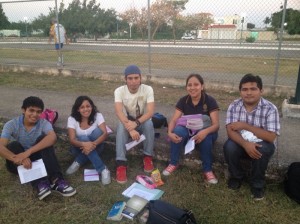 Reading John 1 was particularly significant for me. When I first read this passage, I was very confused: How can Jesus be God? How can he be both a person like me and fully God? These questions made me want to investigate more.
As I got to know Jesus better through other biblical stories, I started to understand. My vision of the world changed and I started to believe in a personal God. I became aware of my sin and the darkness in me. And what is most important: I met the love of God through the grace and hope which he gives us in Jesus.
I'm a scientific person. I want to be sure of something before I believe in it. If somebody had shown me a miracle, I don't think that I would have believed. But I love to read; I love words. Jesus came into my life through his Word. I discovered that all the evidence necessary to believe in Jesus is there in the Bible, the Word of God. Early 2014, I started a Bible study group in my own school (see picture).
Sara Medina, student of chemistry and physics in Mexico
(sara.medinagom (at) gmail.com)