"Who is God? Does He matter? Does He care for us?"
These seemingly simple questions could be the most profound questions that students ever ask…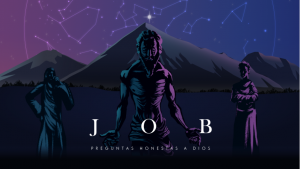 [Artwork by Fercho Vera, Ecuador]
I grew up in a family of pastors. God was part of our daily lives. I knew Him and had some powerful experiences with Him from childhood. But in my years as a university student, I experienced a crisis of faith during a time of personal suffering and loss.
One day, a friend I had invited to attend our Bible study said: "I don't want to get close to God. I'm afraid of Him because of the way he treated Job in the Bible." Lacking a concrete answer, I concluded that she did not know God at all. But I too had these very same questions: "Who is God? Does He matter? Does He care for me?"
The Book of Job feels like a book that requires its reader to have a pre-arranged appointment! My journey with Job intensified last year when I was invited by GBUCh, the Chilean student movement, to prepare three talks for their national student conference online.
I first read the book three times, praying that any prejudice and prior knowledge would not hinder the process of knowing God more deeply through this book. As I reread Job again (and again), I kept asking: "Where is God in the whole narrative? What is the author telling us about who He is?" I was still left with many questions, but also a sense of wonder and worship.
Mindful of the friend who had been scared off by God's behavior in Job, I prepared talks focused on chapters 1, 19, 28 and 42, which I feel provide many jewels to treasure about the Divine character. We, the readers, are taken on a journey. First, we witness the declaration of who God is and his love for Job (Job 1), only to encounter the turmoil and discomfort of Job's suffering, echoed in his anguished cry of lament (Job 19). Finally, these scenes climax with the beautiful image of God as redeemer, giver of life, and we are introduced to Him as the personification of wisdom (Job 28). In the end, though not without difficulties for Job or our own understanding of the text, we see a God who restores and brings new life (Job 42).
I have walked in suffering and in joy with staff and students from Chile, Ecuador, and, most recently, northern México, as we have made our way through Job. These journeys have brought students to moments of reconciliation with God. As one participant said:
"God surprised me… I discovered the spirituality of someone who loves God deeply, God the marvelous Creator, who deeply loves us despite all the suffering He allows in our lives. The Book of Job inspires me to a new level of relationship with God, a life of honest prayer and waiting…"
Ana Miriam Peralta, staff worker with COMPA and member of the Scripture Engagement global team.